Simply put 1-2g matcha tea powder in one cup, 1-2grams of matcha powder to 50-100ml of water less than 80 degrees or even if cold water, stir and serve. Add milk, honey, yogurt, sugar, ice cubes etc to your desired taste, it can be applied on bakery. Because the product is containing fiber components, it is common situation if any sediments.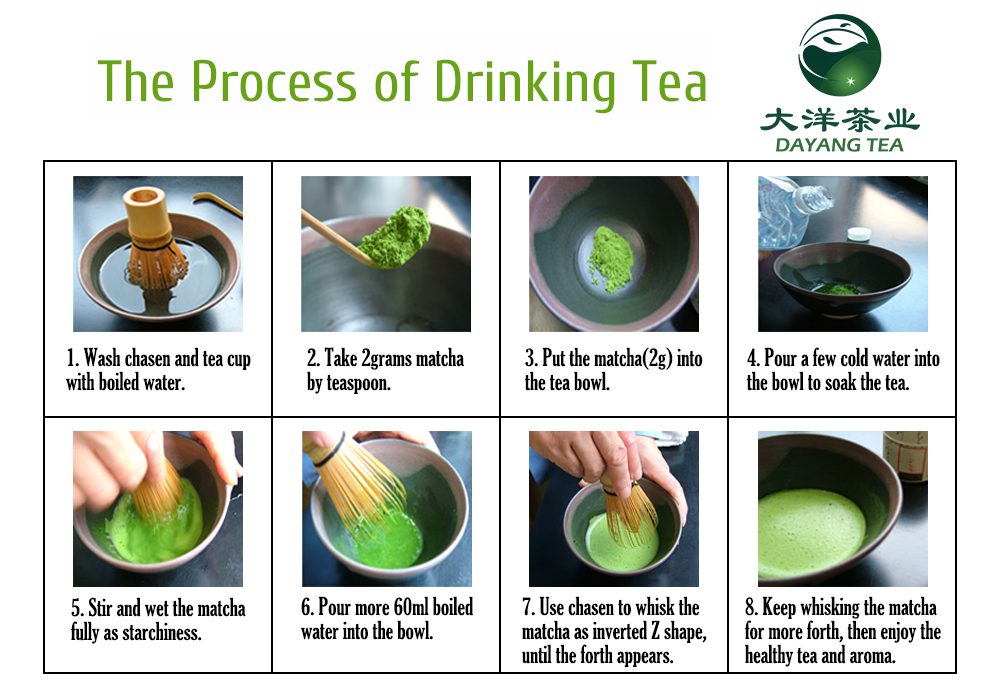 Keep sealed and store in a cool, dry and ventilated place, away from heat and direct sunlight or refrigerator, with the temperature of 0-18 degrees (Attention must be paid to: make sure the tea is sealed up, meanwhile can't put together with another odor, in case of taint of odor) 
Shelf Life: 2 years, in unopened package if stored under proper conditions.
Matcha is a very unique chinese green tea, a finely powdered tea used in the traditional china tea ceremony and offers you sheer unlimited options of creating applications that give excellent results in taste, color and customer satisfaction. The unique feature of Matcha is that unlike sencha and other teas. When one drinks Matcha, the leaf is fully consumed. You could drink it directly, or use for flavorings in chocolates, candy, desserts, ice cream, drinks, etc.
The most popular applications are Matcha ice cream, Matcha chocolates, Matcha milk/yogurt mix drinks, Matcha-Lattes, Matcha-cappuccinos and Matcha-smoothies.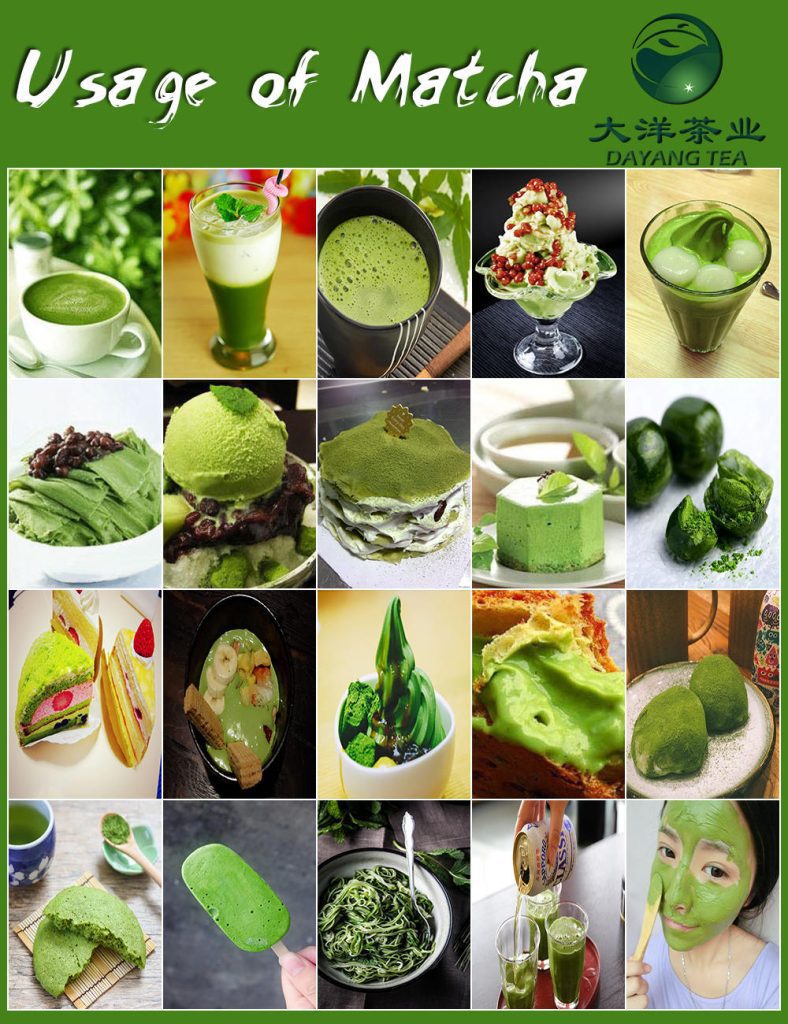 You can also touch some Matcha, and then add some general toothpaste after mixing them you could use it to brush your teeth, it not only has the good effect to your teeth, but also it makes your breath lasting fresh. 
Usually, after washing your face, you can dip some water and take some Matcha by hands, then pat your face, it has the function of contractive skin, strength your skin membrane, and beauty your cutaneous .Once a day and don't discontinuous, then you can reduce black dot, freckles.
Matcha anti-whelk mark mask: suitable amount of Matcha add one egg yolk add suitable flour :add egg yolk into the flour then mix them, and then add Matcha, apply them to cover your face, after 20 – 30 minutes, clear your face by warm water. It has very good effect in removing whelk mark.
Matcha tighten your skin mask: suitable amount of Matcha powder add honey add Suitable amount of flour: add honey into the flour and then mix them, then add matcha powder mixture, apply them to cover your face, after 20 – 30 minutes, clean your face by warm water. 
Matcha and yogurt usage: A spoonful of matcha powder added to 200C. C. low-fat yogurt or chlorella yakult, take it 1 – 2 hours before your meals, even you take your meals normally.
Gentle and graceful green tea: Matcha 6 grams add hawthorn 25 grams add three bowls of water, boils it for 6 minutes, take it after three meals. You could continue to drink it if you pour boiled water into it, once a day. Eliminate your dewlap grease, and it is good effective of reduce blood stasis. 
Matcha and apple usage: Take one apple juice, add suitable amount of Matcha, take it in the morning and evening, take it before your meals, it is suitable for people who could not control their appetite.
Matcha and lemon usage: A spoonful of Matcha and half piece of lyophilization lemon slice, add 250 milliliter warm boiled water, drink it after fully mixed, and take it after meals! It could adjust acidity material in your body, accelerate metabolism, and eliminate redundant moisture. Suitable for people who is edema lower half of their body, but it is unavailable for people who has tummy bug.
2 grams of Matcha per 8 to 12oz drink is sufficient for a brilliant green color and flavor. This amount also provides enough L-Theanine and Caffeine for a three to six hour uplift often associated with Matcha, minus the crash often associated with coffee style caffeine alone.
Matcha commonly used method: Summer take it as ice drink which is cool and reduce fire: 2 grams of Matcha add 450ML mineral water add suitable honey or sugar ,it will taste better. Winter take it as hot drinks which has rich nutrition: 2 grams of Matcha add 300ML milk or bean milk. 
. In Ice Cream and Gelato
For Matcha green tea ice cream and gelato, a 1.0% to 2.0% Matcha concentration blended into the white ice cream base is sufficient to produce a rich, Matcha green tea flavor and color.
Matcha can either be blended into the grains or into a yogurt/white chocolate.
The average person can all drink it, especially people who is fat, elderly and women drink ,it is much better. Once a cup, about 150 milliliter. Everyday 2 – 3 cups.
People whose gastric is cold, should not drink too much tea, especially green tea, if you drink overmuch, it will cause you feel pain in your stomach.
People who is neurasthenia and insomniacs, it is not suitable to drink tea before sleeping, especially can't drink strong tea, or you will make the insomnia terribly.
Women who are during the time of lactation, it is better not to drink tea, because tea has the function of convergent milky juice.
There is high temperature in summer, and your body will sweat too much, and your body fluid consumption too much, so it is better to drink green tea.