"We believe what happens tomorrow is determined by what we do today."
茶吸天地精华, 占尽五行八卦,金木水火土没有一样不占,但它受尽人间煎熬,风吹日晒雨淋,最后被铁锅炒,被开水泡,才能泡出自己的香气。它受了多大的苦,受了多大的气,才能把香味送到我们嘴里,它是告诉我们:先苦才能回甘!
BCS Organic Certificates
and FDA Certificate of USA
Linan Dayang Tea Industry Co.,Ltd was established in 1991; the headquarters lies in the western suburbs of Hangzhou, in Linan district, which is the birthplace of Chinese organic tea. Our company owns 5 tea plantations:in Linan, Yuhang, Tonglu (All in the Hangzhou area), and Tiantai and Jinghua(Zhejiang area). We have the following partner institutes and organizations: Hangzhou Linan Organic Resource Development Institute, Linan Tianmu Qingding Tea Industry Co.,Ltd., Linan Qingshan Dayang Tea Specialized Cooperative, and Hangzhou Efoofan Commerce Co.,Ltd. In 2020, the company introduced Hangzhou Yibei Tea Technology Co., Ltd as a strategic investor for asset restructuring which is bound to lead us to a more brilliant future.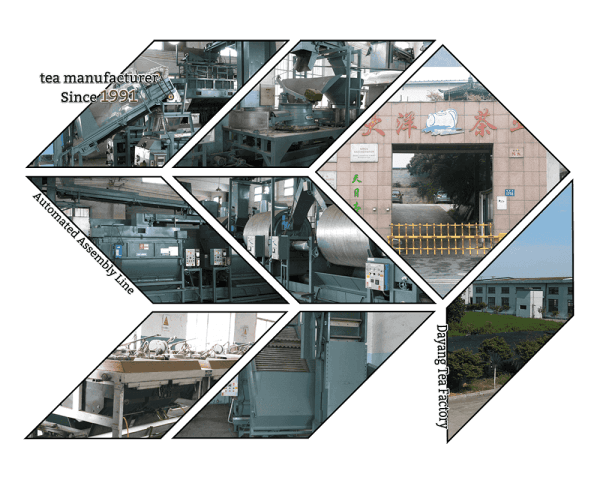 Among them,the Hangzhou Linan Organic Resource Development Institute was the first professional organization in China devoted to developing organic tea and green foods, and the institute now owns a specialized organic tea plantation base. Here, the first case of organic tea exported to Europe originated. It was inspected by many organic food certification authorities, both domestic and abroad, and was awarded many prizes based on quality appraisal of organic foods at city, province and state levels.
Our company imported two advanced japanese sencha processing lines, five longjing processing lines, and advanced equipment for producing black tea, oolong tea, and various famous tea. Now in total, we own nearly 10,000 Mu of plantations, of which 8,000 Mu have been approved as organic plantations by the international BCS and domestic certification authorities.
We have annual production of 1,000 tons of dried tea. It is the first manufacturing and self-exporting company in the tea industry approved for a quality system certificate in Linan.
Our company chiefly produces all sorts of organic green tea, organic black tea, organic white tea, organic oolong tea, many kinds of tea fannings — green, black and white, as well as organic teabags. It is the leading enterprise specialized in researching and producing organic tea in our country, and won gold awards for famous tea several times, both at home and abroad.
It was honored with the name "Dragon Enterprise" in Linan in 2002. In 2010, Dayang longjing tea won the competition for hot brewed tea at the tea EXPO held in Las Vegas in the USA, which represented a breakthrough for the image of Chinese green tea in the USA, and opened new vistas for Chinese green tea in the North America market.
1996
Attended the International Organic Union Conference
1997
China Organic Certification
1999
Germany BCS Certification
2001
China OTRDC Certification
2010
Got the Gold Award in Las Vegas Tea Exhibition
2020
Introduced YiBei Tea Technology
2022
Rainforest Alliance Certification