Oolong tea from the tribute tea of Song Dynasty, dragon ball and phoenix cake evolved, created in 1725 (Qing Yongzheng) before and after. According to Fujian "Anxi County," it reads: "Anxi in the Qing Emperor Yongzheng who invented the first three years, the practice of tea, after the introduction of northern Fujian and Taiwan." According to historical research, Fuzhou in 1862 that tea has a stack of business tea, Taiwan in 1866 began to export tea. Oolong tea is sold in addition to Guangdong, Fujian province, mainly exported to Japan, Southeast Asia, Hong Kong and Macao.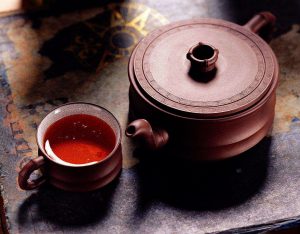 Oolong tea is the representative of Chinese tea is a semi-fermented tea, transparent amber tea its characteristics. In fact, only a general term for tea, but also could be broken down into many different types of tea. For example: Narcissus, Wuyi Rock Tea, DaHongPao,  Cinnamon, TieGuanYin, QiLan(Chelan), Huangjing Gui(Gold Gui), Dongding Oolong, Bau Jong Oolong, Phoenix Dancong, Phoenix Narcissus, Lingtou Dancong, such as color, as well as species suitable for food with seafood, etc.
Oolong tea is oxidized somewhere between that of a green tea and a black tea. There are various styles of oolong tea; some are only slightly oxidized, while others are heavily oxidized. Oolong means "black dragon" in Chinese, which probably refers to how a twisted oolong leaf resembles a dragon.
To make oolong tea, tea makers shake tea leaves in baskets to bruise them, and then the leaves are allowed to oxidize for a specific period of time and more intricate shaping. After oxidation and partial shaping, oolongs are heated to halt oxidation and carefully shaped one last time. Beyond this basic heating, many oolongs are roasted. The roasting process can give oolongs darker aromas and flavors, akin to ripe fruits (especially stone fruits), nuts, roasted grains, caramel, coffee or chocolate.
We can only produce organic rock oolong in our tea plantation that is a unique characteristic and distinct category of tea. Twisted and curled leaf, auburn bloom color, and heavy YAN flavour. It is a very outstanding in quality.
More Detail Refer to Here
Details
| | |
| --- | --- |
| Weight | 100 g |
| Dimensions | 8 × 8 × 13 in |